Common Questions I receive – with answers!
Planning a party and hiring live entertainment can be complicated and stressful, but it doesn't have to be! Below are some of the most common questions I receive. Hopefully the answers will help you understand how I run my business and book shows. If you have additional questions or concerns, please don't hesitate to email or call!
(CLICK ON A BOX TO OPEN ANSWER)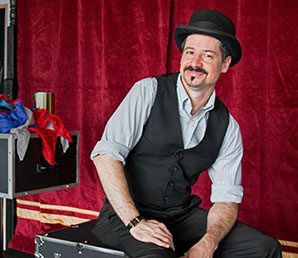 How Far In advance do I need to book you?
I book shows as far as a year out, but can often squeeze in a show at the last minute. Allowing two or three months and/or being somewhat flexible with date and time is usually sufficient. Please contact me regarding specific availability for your event.
WHERE CAN I SEE YOU PERFORM?
I'm glad you asked! One of the reasons I stay so busy is because I can offer potential clients the chance to meet me and see what I do before booking. I post all of my public performances weekly on both my google business page and my facebook page. Please drop by – I'd love to see you.
WHAT FORMS OF PAYMENT DO YOU ACCEPT?
Payment by cash, check, credit card, or Venmo is due at the show; a deposit is not required for the vast majority of shows.
WHY ARE THERE NO PRICES LISTED ON YOUR SITE?
Pricing varies based on factors including length of show, location, size of the audience, day of the week, etc. Please contact me for a specific quote for your event.
HOW MUCH ROOM DO YOU NEED WHEN YOU PERFORM?
My performances are very adaptable and I've never had a situation where I wasn't able to set up and perform. That said, the most enjoyable shows are those where the audience is comfortable and can see and hear well. Shows done in a school, church, library, etc. typically have no issues. For a Birthday Party in your home, a living room, family room, or a finished basement works great. Outdoor performances at parks and on decks can have challenges but can work as well – as long as there is a backup in case of rain.
HOW FAR DO YOU TRAVEL?
Most of my shows are in Ohio, Kentucky, and Indiana, but I am available to perform throughout the Midwest.
DO YOU HAVE A CANCELLATION POLICY?
When booking a show, I require a signed contract that does not allow for cancelations within 60 days of the performance date except in the case of natural disaster. I also sign the contract myself, pledging to be there to make sure your event is an overwhelming success.